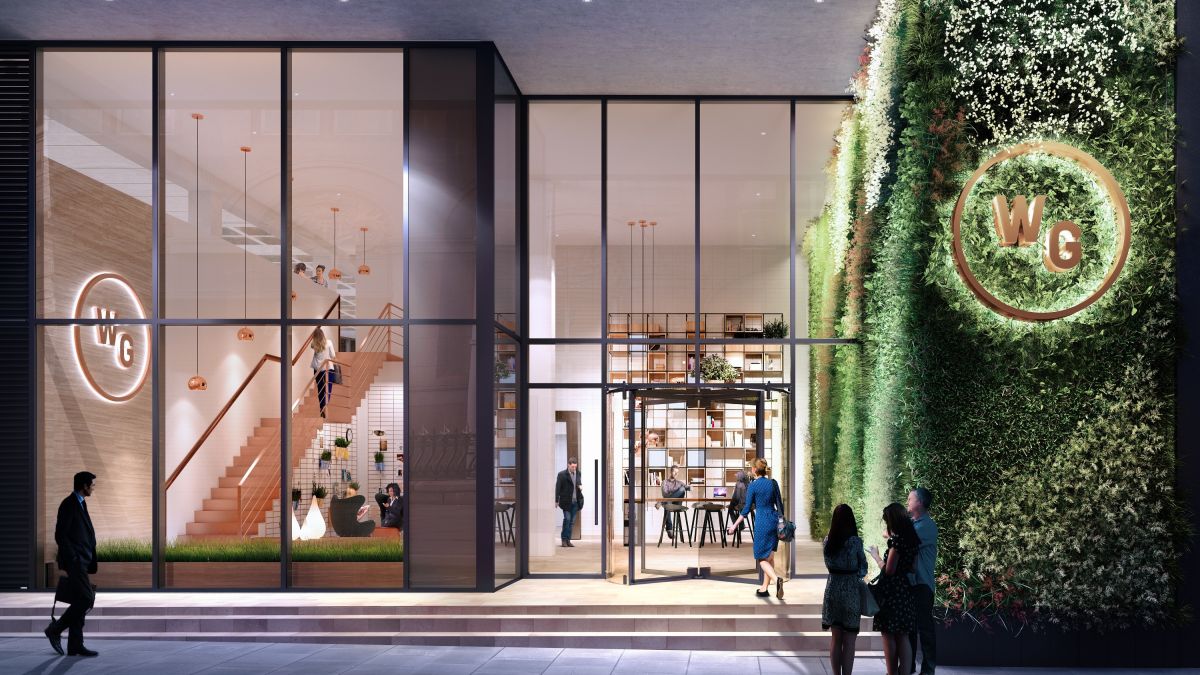 Why are we called Windmill Green?  Well, we're on Windmill Street and we've got a lovely green terracotta façade. End of journal entry.
Sorry, we couldn't resist. In actual fact, Windmill Green is one of the most sustainable and environmentally aware commercial buildings in Greater Manchester - we're expecting an Outstanding BREEAM rating - and since our inception we've been coming up with innovative ways to push the boundaries in what it means to be green.
Did you know that emissions from buildings accounted for 34% of total UK greenhouse gasses? More worrying, there's real difficulty in improving this, as an incredible 80% of the buildings that will be used in 2050 have already been built. So, it's a major priority for commercial developers today to decarbonise their projects and bring in energy efficient alternatives that speed the transition to a sustainable economy.
In some slightly more encouraging news, buildings emissions have actually declined by 21% since 2007 due to a combination of improved energy efficiency and a push for real cost savings given high energy prices and the recession; however, that's not enough if we want to secure a safer future.
First there was light
The UK government has set a challenging target. By 2020, 15% of the UK's energy consumption will need to come from renewable energy sources. In order to accomplish this ambitious goal, we will have to come up with creative solutions.
We really believe in distributed generation – creating energy and heat on site in a low-carbon way – as a quick and easy way to complement the bigger scale changes happening with our major power providers who supply the grid. For example, maximising the number of solar panels on projects across the region is something that all developers need to begin considering as a very cost effective solution with a payback of just four to five years typically.
Our developer, FORE Partnership, is leading the charge, bringing some of the most innovative solar PV panels ever installed in the UK to our site – the energy generated will be used to power every bit of lighting throughout our seven-storey building. We'll be kitted up with Sunpreme's GxB380 Bifacial Smart Solar Panels which generate electricity from the top and the underside of the panels facing away from the sun, bringing overall efficiency to an industry-high of 24%. These panels are ideally suited for Manchester's mixed climate.
Alongside this, we'll have highly efficient glass and low wattage LED lighting that uses only 4 watts to light each square meter – a traditional fluorescent system in an office consumes 15 to 20 watts per square meter.  We've incorporated ultra-modern water saving measures, and the ability to monitor energy consumption to feed back to tenants in real time.
Keeping it green
Stop by when the building opens and check out our living green wall.  Made up of an eclectic mix of different plants and species, this dramatic entrance wraps from the exterior of the building through to the reception, bringing the outdoors in.
This improves air quality, reduces CO2, and let's face it, just looks pretty cool.
There is an increasing body of evidence to suggest that plants in the workplace have a dramatic, positive impact.  A 2010 study by the new University of Technology, Sydney found significant reductions in stress among workers when plants were introduced to their workspace: a 37% fall in tension and anxiety, a 58% drop in depression, a 44% decrease in anger and hostility, and a 38% reduction in fatigue. Separate studies by Washington State University and Exeter University found that living office plants increased employee productivity by 12% to 15%.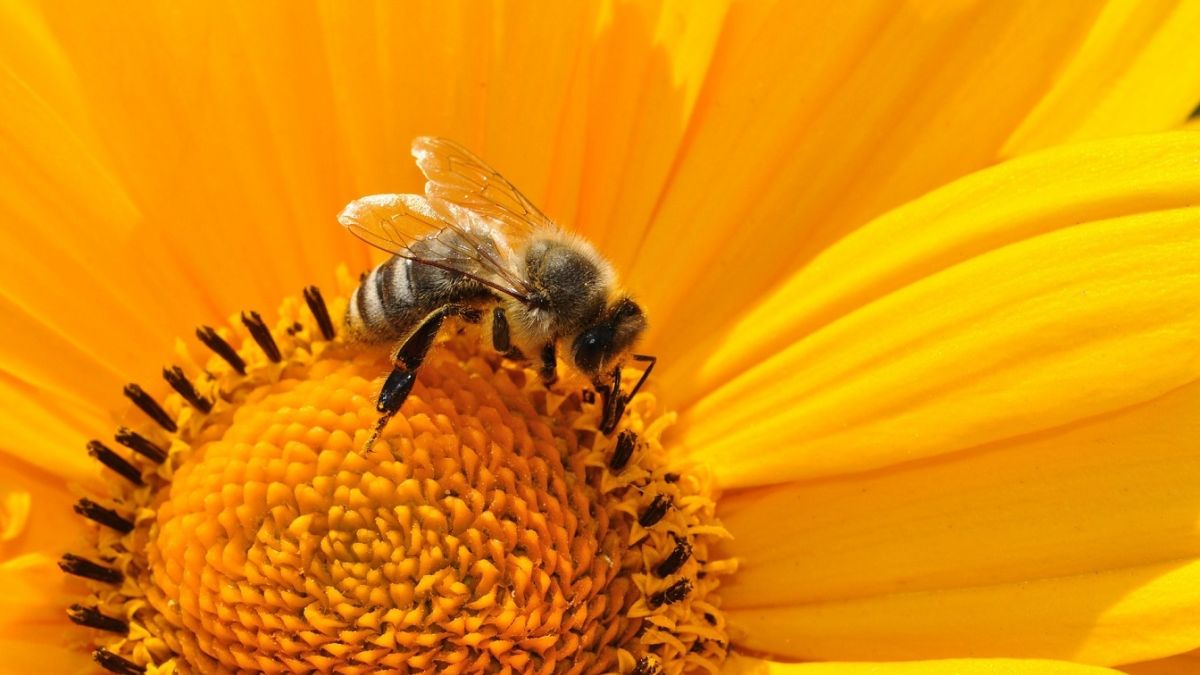 Keeping the buzz alive
But "being green" is more than just being smart about reducing energy, water and waste.
The bee is super important to Manchester - it's a symbol of strength, hard work and resilience, which our Mancunian family have in spades. And of course, environmentally, bees play an essential role in our ecosystem. A third of all our food depends on pollination by bees, and in 2010 honey bees provided over £18 billion in added value to the agricultural industry.
Unfortunately, wild bees' habitats shrink every year as greenbelt land is being built on for homes and businesses, and we've seen a staggering 45% loss of commercial honeybees in the UK since 2010.
Similarly, biologists have found that 150 different chemical residues have found their way into certain samples of bee pollen, a leading cause in the depleting bee population.
We've taken it upon ourselves to help give Manchester bees a safe place to work and live with our on-site apiaries. Tenants can come and go as they please and view the bees as they're hard at work. It's also going to be great for tenant wellbeing – spending time with nature can help you relieve stress, improves short-term memory and refreshes and restores mental energy. All from the mighty bee!
If you wish to help the bees alongside us, there are several easy things you can do, including:
Protect pollinating animals near your home, which encourages people to create a suitable habitat for bees in their garden
Ask local governments to reduce pesticides
Ask councils to help pollinators
Choose organic fruit and veg, as no pesticides will have been included in the growing process which helps bees flourish
Donate to campaigns that help save the bees - this is a process that is suitable to many as you only have to go online and donate to the website. This process will only take a couple of minutes but the long-term outcome could help hundreds of bees
Practice what we preach
Now it's easy for us to instigate these sustainability methods in our build, but we want to go one step further and try to encourage Windmill Green tenants to live a greener lifestyle. We can reduce carbon by the choices we make outside work.
An obvious example is the way we get to and from our jobs. We want to encourage low-carbon modes of transportation by giving our tenants choices in terms of how they commute. We've taken out all the car parking in our building, for example, and replaced it with super cool, fully kitted out cycle storage facilitates and showers. We've partnered with local lifestyle company Swifty Scooters to provide five custom-built, Windmill Green-branded scooters in our reception area for tenants to use free of charge. We're also installing a Brompton cycle hire "pod" right outside the building. This vending machine-like contraption allows our tenants and locals in the community to conveniently hire the classic British bike for a day, week or month in a super convenient, low cost way.
All to provide you with a bit of help to make healthier, greener choices. And to join us in being green.